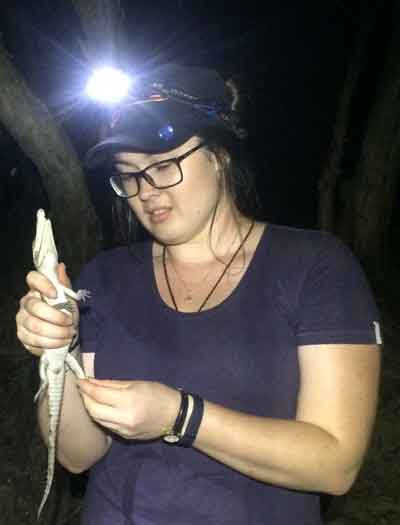 As Graeme's daughter Nalani has grown up in the bush, and has unsurprisingly developed a strong love for the plants and animals of Australia, particularly Top End species. Nalani is passionate about conservation of plants, wildlife and ecosystems in general and hopes to continue working in related fields throughout her life.
Nalani has solid knowledge of the biodiversity of the Top End and can identify many of the plant and animal species that call the Top End home. She is always keen to learn more and wants to know all there is to know about the habits, habitat, biology and reproduction of these species. She is also keen to further her understanding of local Indigenous knowledge of the plants, animals, seasons and overall management of the Top End.
Nalani is a licensed wildlife rescuer and carer. Alligator Hole is one of the release sites she uses, and the possum boxes around the billabong were put up to support the release of her orphaned possum joeys, who will now hopefully thrive.